Reinvigorates "Sen"
Professionally trained in Thailand, our masseurs will devote full attention to your entire body's every detail.
As a fully body massage, the change you'll feel throughout your body is Thai massage's great appeal and quite different from other massages which only focus on one part of the body.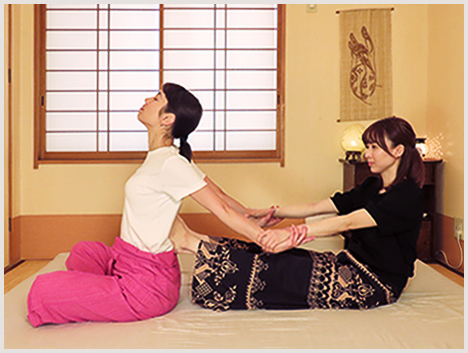 70 min

9240 yen

90 min

11880 yen

120min

15840 yen

150min

19800 yen

180min

22440 yen

(+10min

1320) yen
* Courses 60 minutes and longer include a foot bath.
An explanation of traditional Thai massage
In Thai massage, the conduits for the internal flow of energy, known as 'sen,' are stimulated thoroughly over the entire body. It is said that there are over 72,000 'sen' in the human body. Of these, 10 major 'sen' serve as guiding channels for this therapeutic massage.
By seeking out artificial blockages of 'sen' caused by the physical and emotional rigors of everyday life, then slowly loosening them, the body's energy flow can be restored to its original state.
While many people assume that Thai massage involves a kind of acrobatics, please don't worry about overstretching, as our approach ensures that our masseurs push no further than your body's natural range will allow. Also bear in mind that Thai massage is not solely meant as treatment for physically active people, but also for inflexible individuals, such as the physically unfit, the deskbound office worker, and people in their 40's and 50's. We strive to help you relieve the stress and tightness natural to your level of physical activity and flexibility.
Optional menu
Herb Ball (Samunpurai)
This is a treatment using medicinal herbs found in traditional Thai medicine. First, the entire body is relaxed with a full body massage. Then, the massage continues as ball of steamed hokahoka herbs is pressed and rolled over the body. The heat of the herb ball penetrates to parts of the body, such as joints and bones, which would normally be difficult to reach. This is considered one of our most relaxing courses, and is especially effective in treating chills, joint pain, insomnia, and constipation, all while relieving those pressing worries so difficult to assuage.
Available for an additional 2100 yen on any courses.
Customers are free to take the herb ball home. Customers who then return with the herb ball for their next treatment are exempted from paying its 1050 yen cost.
Herb Ball Ingredients:
Turmeric, plai ([pontsukushouga]), tamarind leaves, lemongrass, rind of kaffir lime, camphor, and borneol
Herb's Medicinal Effects:
Turmeric: Revitalizes dry skin, reduces swelling, reduces toxins in liver, promotes gastric health
Plai: Eliminates muscle fatigue, relieves chills, reduces aches and pains, has anti-inflammatory properties while reducing gas
Rind of kaffir lime: Stimulates blood circulation and relieves stress and anxiety
Tamarind Leaves: Alleviates congestion, coughs and fever
Lemongrass: A natural diuretic and deodorant, stimulates blood circulation
Camphor: Relieves lower back pain, psychosomatic illness, muscle and nerve pain
Borneol: Relieves nerve pain, bronchitis, strains and rheumatism.
* Individuals will experience the efficacy of these herbs differently.